100,000
Annual kWh Solar Power Generated
$160,000
Annual Cost Savings (efficiency + solar)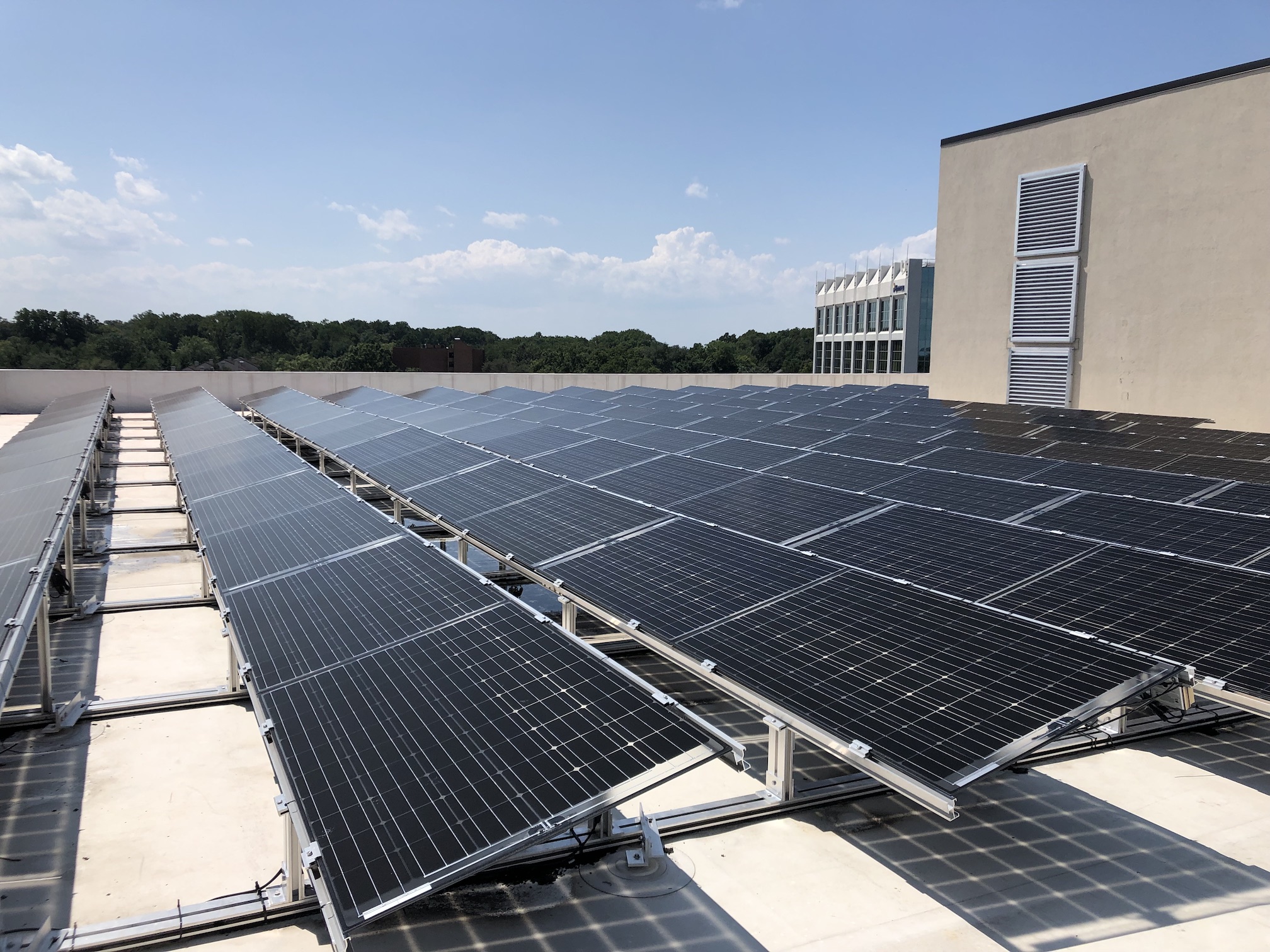 Significant energy savings, remediation of building deficiencies and on-site renewable energy system improves cash-flow for forward-thinking building owner
Recurrent Innovative Solutions assisted this property owner with a comprehensive project to reduce energy use and update building systems shortly after the acquisition of the property. The project was financed using C-PACE and consisted of the second-largest financed C-PACE project in the State of Maryland. The project included a variety of building system upgrades, led by replacing all existing pneumatic controls with digital controls and controlled by a building automation system designed and implemented by Recurrent Innovative Solutions. Additional HVAC system improvements included condenser and chilled water pump replacements with higher efficiency pump impellers and motors. Water conservation reduction was achieved with installing low flow water fixtures. With the reduced water demand, the domestic water booster pump replacement was smaller and consumed less energy with the addition of a variable speed drive.
Interior and exterior light fixtures were replaced or retrofit with LEDs. In addition, a 75 KW solar PV system was installed on the roof, consisting of innovative bifacial panels which offer improved energy production. The energy improvements are projected to reduce the building's electricity and water consumption by almost half, saving more than $160,000 in energy and maintenance costs annually. The project also will reduce energy use by approximately 2,300 million British Thermal Units (MMBTU), generate nearly 100,000 kWh of solar energy and save more than 750,000 gallons of water annually.
We updated the building with a state-of-the-art building automation system that allows for the dynamic optimization of the building in real time, plus high-efficiency LED lighting and rooftop solar to achieve a cash flow positive project through the C-PACE program.
Keith Derrington

Building Type: Commercial Office
Building Location: Rockville, Maryland
Building Size (ft2): 101,021
Recurrent's Role: General Contractor
Return on Investment: Cash Flow Positive
Estimated kWh Savings (Annual): 639,745
Estimated Cost Savings (Annual): $160,000
Air Handlers: (28%)
Chillers: (36%)
Cooling Tower: (48%)
Pumps: (57%)
Boilers: (6%)
Water Pressure Booster: (93%)
Control Air Compressor: (100%)
We are pleased that the C-PACE program is helping Montgomery County achieve its energy efficiency goals while simultaneously improving the lives of its residents. Through this program, the County continues to lead by example, showing how the nexus of private and public sector support can improve local communities and support local businesses.
Adam Ortiz, DEP Director
This was our second C-PACE project in the County, and it ran even more smoothly than the first project. We were able to utilize the C-PACE program to replace older building system components that had become energy inefficient, and in doing so, complemented the addition of a full building automation system. We are excited to be the first commercial building owner in the County to utilize the C-PACE program for solar energy, adding bifacial solar panels on the building's roof. We are looking forward to reduced operating and maintenance costs going forward and are proud that this 40-year-old building is now ENERGY STAR certified.
Rob Eisinger
Innovative Technology: Bifacial Solar Panels
Small incremental cost in manufacture of bifacial compared to unifacial PV modules
Bifacial panels have been shown to have 15-30% higher production than unifacial modules
Transparent back cover and high reflectance roof allow PV cells to receive the backside radiation
Roof material chosen exceeded Solar Reflective Index (SRI) criteria for LEED