Ambulatory Care Associates
402,646
Annual kWh Savings (Estimated)
$55,565
Annual Cost Savings
Medical office building leverages grants and utility incentives to stage upgrades to ensure satisfaction of tenants
9715 Medical Center Drive is a commercial medical office building serving a variety of tenants that practice medicine near the Shady Grove Adventist hospital. Recurrent conducted an ASHRAE Level II audit of the building and identified a number of measures which would reduce total energy savings of approximately 39%. The existing building systems included lighting, cooling system (chiller and cooling towers), heating system (boilers), air distribution system including constant volume air handlers with rudimentary pneumatic controls with limited functionality. 
Recurrent has designed and implemented a number of measures on a turnkey basis for this property owner over the past five years, reducing overall energy consumption and enhancing building performance. These measures included replacing the existing chiller and retrofitting or replacing lighting with LED. The lighting project enabled a reduction in the size of chiller required to meet the cooling needs in the space. The proposed chiller was an above-code centrifugal 280 ton chiller. A boiler plant replacement project replaced two existing boilers and two hot water pumps. Two new pumps were selected and installed with the two high efficient, non-condensing boilers to achieve further energy and maintenance savings.
Recurrent also built an Efficiency Capital Stack®, securing financial incentives from the utility and winning a competitive grant to buy down the cost of the project by 44%.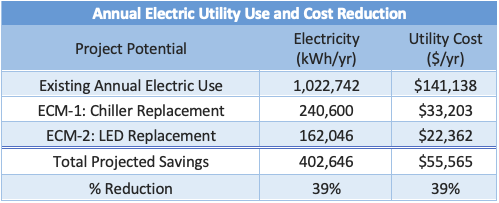 Building Type: Medical Offices
Building Location: Rockville, Maryland
Building Size (ft2): 72,150
Recurrent's Role: General Contractor
Return on Investment: 5.2 years
Estimated kWh Savings (Annual): 402,646
Estimated Cost Savings (Annual): $55,565